Polar Sea Ice Processes Data for Use With
NASA Image2000
RETRIEVING DATA
Allows you to access the data for the tutorial and exercises
FOR FURTHER STUDY
Points you to sources of additional data related to this module
SATELLITE DATA INFORMATION
Gives information on the satellite instrument and the data used in this module
Before you begin retrieving data, be sure NASA Image2000 software is installed on your computer.
RETRIEVING DATA
Data for the exercises have been compressed into a single archive of Zip files. To extract the Zip archive using WinZip, click on the file called psiex_i2k.zip below. Follow WinZip's instructions for extracting an archive. When the download is complete and the archive is unpacked, you'll see the following folders and files inside a folder called sea_ice.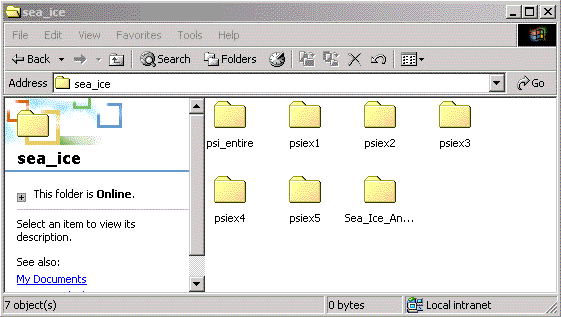 Drag that folder into the "Data" folder in your Image2000 folder.
NOTE: In order to be able to follow the step-by-step instructions given in the exercises, be certain to extract the data files into the correct navigational path, as follows:
<i2k installed>|data|SEES|sea_ice|<exercise number>|<file name>
The folder entitled "Sea_Ice_An..." is empty -- it was intended as a placeholder only. Answers to the questions in the exercises are contained in the Instructor's Guide.
DATA FOR FURTHER STUDY
Once you're comfortable with the concepts presented in the exercises and have mastered the software, explore the entire Polar Sea Ice data set (psi_entire) more fully. After all, you have nearly 20 years of monthly mean, maximum, and minimum sea ice images for each pole right here on this Web site. Complete the same exercises using other images or sequcnes of images.
The National Snow and Ice Data Center in Boulder, CO, is the source for information and data about high latitude Earth science, including sea ice. The Web site is http://www.nsidc.noaa.gov.
SATELLITE DATA INFORMATION
Information on the satellite data is included in Part 2 of the Scientific Background for Studying Polar Sea Ice Processes lecture in the Class Resources component of this module.
| Home | Stratospheric Ozone | Global Land Vegetation | Oceanography | Polar Sea Ice Processes |