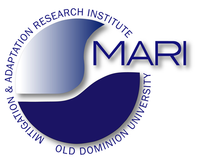 Center for Coastal Physical Oceanography &
Mitigation and Adaptation Research Institute
---

CCPO & MARI Seminar Series
Fall 2015 Schedule
During the academic year, CCPO & MARI invite distinguished scientists to present seminars, which
take place in the Conference Center, Innovation Research Park Building II (*map here*),
4211 Monarch Way, Old Dominion University on Mondays at 3:30 p.m.
A reception is held prior to the seminar at 3:00 p.m.


Titles and abstracts are posted one week prior to each seminar and are
available by clicking on the speaker's name.
September 14, 2015
Malcolm Bowman
Stony Brook University
September 21, 2015
Patricia Yager
University of Georgia
September 28, 2015
James Maughan
CH2M HILL, University of Massachusetts Lowell,
and US Dept. of Transportation
October 5, 2015
Ryan Carnegie
Virginia Institute of Marine Science
October 12, 2015
No Seminar – ODU Fall Break
October 19, 2015
Diane Horn
Birkbeck College, University of London
October 26, 2015
Sandra Fatorić
North Carolina State University
November 2, 2015
Johanna Rosman
Institute of Marine Sciences
University of North Carolina at Chapel Hill
November 9, 2015
Melissa Kenney
University of Maryland
November 16, 2015
Robert Condon
University of North Carolina Wilmington
November 23, 2015
Mike Dinniman
CCPO
November 30, 2015
James Haluska
CCPO
For more information or to be included on the seminar mailing list,
call (757) 683-4940 or e-mail
julie@ccpo.odu.edu
.
Innovation Research Building I
Old Dominion University
Norfolk, VA 23529
757-683-4940

Last updated on 11/19/2015
This page is maintained by Julie Morgan
Copyright Info: Old Dominion University 2015