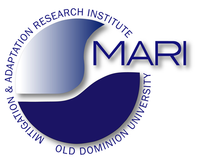 Center for Coastal Physical Oceanography &
Mitigation and Adaptation Research Institute
---
CCPO & MARI Seminar Series
Spring 2016 Schedule
During the academic year, CCPO & MARI invite distinguished scientists to present seminars, which
take place in the Conference Center, Innovation Research Park Building II (*map here*),
4211 Monarch Way, Old Dominion University on Mondays at 3:30 p.m.
A reception is held prior to the seminar at 3:00 p.m.


Titles and abstracts are posted one week prior to each seminar and are
available by clicking on the speaker's name.
January 25, 2016
Gavin Smith
University of North Carolina Chapel Hill
February 1, 2016
Richard Zimmerman
Dept. of Ocean, Earth and Atmospheric Sciences, ODU
February 8, 2016
A. Brad Murray
Duke University
February 15, 2016
Eileen Hofmann
CCPO
February 22, 2016
No Seminar – Ocean Sciences Meeting
February 29, 2016
No Seminar – Ocean Sciences Meeting follow-up
March 7, 2016
No Seminar – ODU Spring Break
March 14, 2016
Sophie Nowicki
NASA Goddard Space Flight Center
March 21, 2016
Nicolas Cassar
Duke University
March 28, 2016
Sara Maxwell
Dept. of Biological Sciences, ODU
April 4, 2016
Donglai Gong
Virginia Institute of Marine Science
April 11, 2016
Kirstin Dow
University of South Carolina
For more information or to be included on the seminar mailing list,
call (757) 683-4940 or e-mail
julie@ccpo.odu.edu
.
Center for Coastal Physical Oceanography (CCPO)
Old Dominion University
Norfolk, VA 23529
757-683-4940

Last updated on 04/01/2016
This page is maintained by Julie Morgan
Copyright Info: Old Dominion University 2016